Robert Pagliarini Financial Planner/Advisor
Robert Pagliarini
Hello. My name is Robert Pagliarini. I have a financial planning and tax strategy firm that serves affluent investors and sudden wealth recipients. Although the firm is in Mission Viejo – part of South Orange County – because of our national reputation, we have clients all over the country.
I work with a diverse group of clients. Many are retirees and business owners. I also have the great honor of helping people during one of the most exciting and nerve-wracking times in their lives. I have specialized in managing, growing, and preserving clients' sudden wealth for nearly two decades. My investment and wealth management firm, Pacifica Wealth Advisors, serves clients across the country and around the globe. We have developed a reputation for our specialized work with sudden wealth from inheritance, divorce, legal judgment/settlement, stock options, business sale, sport/entertainment contract, and the lottery.
Always learning
Sudden wealth is an area with always-changing tax, legal, and financial issues. I've made it my mission to become a life-long learner and student, sometimes to the dismay of my family. I have several photos of me on my honeymoon lounging poolside reading a thick book on wealth management. When on a non-profit trip to Myanmar, I studied on the plane for the IRS Enrolled Agent exam. When on vacation in Europe with my wife, I was caught highlighting a journal column on the taxation of lawsuit damages. I have a large purple folder marked "To Read," filled with columns and papers on investing, taxes, estate planning and a myriad of  financial topics.  I bring this folder nearly everywhere, because I'm dedicated to always learning for myself, and the benefits I can pass onto my clients.
I love to learn, and I think it is a necessity if you want to provide the best advice and current strategies to clients. This probably explains all of the letters after my name. I am a Certified Financial Planner™ practitioner, a Certified Divorce Financial Analyst, a Certified Structured Settlement Consultant, an Enrolled Agent with the IRS, and have a Master's Degree in Financial Services. I'm currently earning my Ph.D. in financial and retirement planning.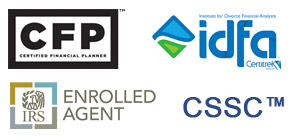 Psychology of money
Although I've spent a great deal of time learning the financial, tax, and legal aspects of sudden wealth, I would be doing my clients a huge disservice if I stopped there. I tell my clients that successfully managing sudden wealth is often less, at least initially, about managing the money and more about managing emotions and relationships. The sad riches-to-rags tales you hear are rarely from a single bad investment or from paying too much tax. The real cause is how money changes us and how it changes those around us. Although I'm a financial advisor, I learned quickly that if I was going to really help my clients, I needed to understand the psychology of money, motivation, emotions, and relationships. To that end, I went back to school and earned a Master's Degree in Psychology with an emphasis in marriage and family therapy. This program required I conduct hundreds of hours of face-to-face counseling. To better connect with clients, I've graduated from business and personal coaching programs as well as workshops in Solution Focused Therapy and others. My goal is not to be a therapist for my clients. My goal is to better understand what drives them and to help them make the best financial decisions they can.
Love of teaching
I've written three personal finance books. My first was the #1 bestselling The Six-Day Financial Makeover: Transform Your Financial Life in Less Than a Week (St. Martin's Press, 2006). I wrote this as a general guide for anyone who wasn't quite sure what they should be doing with their finances. Although the book is almost a decade old, the advice is still as relevant today as it was when I wrote it. My second book was The Other 8 Hours: Maximize Your Free Time to Create New Wealth & Purpose (St. Martin's Press, 2010). This book was a departure from traditional personal financial advice and was more focused on investing your human capital rather than investment capital. My most recent book is called The Sudden Wealth Solution: 12 Principles to Transform Sudden Wealth Into Lasting Wealth (Harbinger Press, 2015). This book focuses on the financial, emotional, and relational issues surrounding sudden wealth.
I think books are a great medium for providing timeless advice, but rules and laws can change very quickly. If you want to read my latest thinking, I write financial columns for CBS, Forbes, BusinessInsider, AOL, HuffingtonPost, Tribune Media, and others.
Daddy on TV
Over the years, I've had the privilege of appearing on Dr. Phil, 20/20, Good Morning America, Fox Business, Katie Couric, and many others. I always have a good time on these shows, and my daughter gets a kick out of seeing Daddy on TV.
Many adventures
Traveling around South East Asia over the past several years ignited the adventurer in me. A couple of times a year, I travel to exotic places around the world. I've climbed Mt. Kilimanjaro, hiked the Inca Trail to Machu Picchu, hang-glided in Brazil, ice-climbed in Colorado, camped at the bottom of the Grand Canyon, mountain biked in Burma, trekked to the Great Wall of China, explored the jungles of Thailand and Malaysia, and completed an Ironman with clients (yes, they beat me but I was just happy to finish!). Not all clients are interested in these trips, but they are always welcome.
My wealth management firm
We are experienced independent investment managers who get up each morning with the unwavering mission to help our clients make more money through low-cost investing, reduce the taxes they pay, and implement comprehensive and creative financial strategies tailored to meet their needs.
We are honored that our clients put their trust in us to help them create a better future. We are passionate about always doing what is right, honest, and ethical for our clients – putting their needs above all others. And we never forget that we are here for our clients and because of our clients.